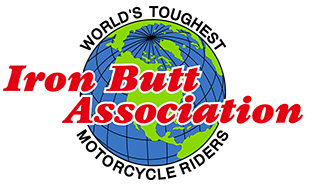 Ride Around Texas Gold

Ride Around Texas Insanity Gold


Version No. 2.0
Date last revised: January 7, 2017



© 2017, Iron Butt Association, Chicago, Illinois
Please respect our intellectual property rights. Do not distribute this document or portions therein, without the written permission of the Iron Butt Association.


Background:





Objective

: Ride the perimeter of Texas, clockwise or anti-clockwise, stopping at 18 mandatory checkpoints, including start/finish point,

in order

within the alloted time period.

RAT Insanity - less than 85 hours
RAT Insanity Gold - less than 70 hours

The Ride Around Texas History



Read the

rules for the iconic SaddleSore 1000

on the Ironbutt Association site. The rules for this ride are similar and you will get valuable background information.



Documentation: See here.



Verification fee:

$60



Definitions

:



DBR - Dated Business Receipt



A DBR is a machine generated receipt with the date, time and LOCATION on it. Check it - do not assume it is correct. A receipt with an incorrect time/date/location is worthless. Check and re-check.



Rules for the RAT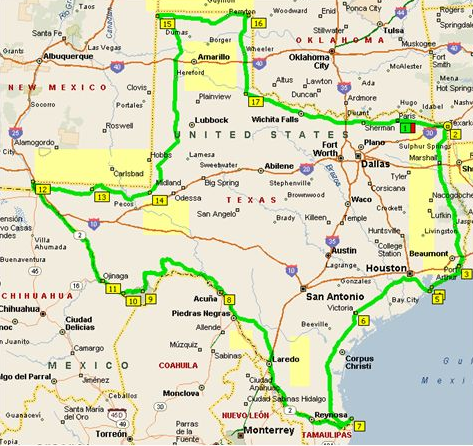 The mandatory checkpoints are listed below. You may start at any of the mandatory checkpoints. Your finish checkpoint is back to where you started.

Checkpoints must be ridden in order,

clockwise or anti-clockwise, around the perimeter of Texas. You may take any route you wish between checkpoints, but you must stay within the State of Texas.

You must obtain a DBR every 350 miles or less AND in the following jurisdictions and the receipt MUST indicate the city, date and time. Check your receipts.



Texarkana START location
Port Arthur
Port Bolivar
Galveston
Victoria
South Padre Island
Del Rio
Panther Junction, Big Bend NP (picture of your motorcycle in front of Visitor Center sign is acceptable)
Lajitas General Store (picture of your motorcycle in front of store sign acceptable)
Presidio
Anthony
Guadalupe Mountains National Park (picture of your motorcycle in front of park entrance acceptable)
Kermit
Texline
Follett
Childress
Paris
Texarkana END Location (if possible, use same gas station as start location)

DBRs are readily obtainable at all communities. Pictures of your motorcycle may substitute for DBRs at only the following locations:

Panther Junction Visitor Center, Big Bend National Park. (DBRs are available at the Visitor Center and gas station, when open)
Guadalupe Mountains National Park (DBR is available at the Visitor Center when open)
Lajitas General Store (DBR is available at the General Store when open)
Port Bolivar (Take a picture of your motorcycle on the Galveston - Port Bolivar ferry while underway)

You may not leave the State of Texas except for emergencies. If you do leave the state, you must return to the point where you crossed the border and continue your ride from that point.

Your official time is determined by the starting and ending receipts. PLEASE check these documents and make sure the clock and date are correct!

Spotwalla.com is REQUIRED FOR THIS RIDE.



Merchandise:



**********TBA*******